Site
Host:
Tripod
1024 x 768 res.
Frames
Tables
JavaScript
Photograph by Mike
Leissmann
Graphics and coding by
Bad
Kitty Digital Design
Contacts
Kieran:
eat75food@yahoo.com
designer:
Rikki@hipplanet.com
Guestbook
View
::
Sign
Texas Body Art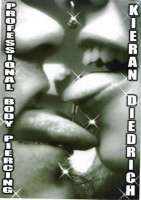 Name- Kieran Diedrich
Location- Houston, Texas
Occupation- professional body piercer
Shop- Texas Body Art
Schooling- high school graduate, Bachelor's Degree in Culinary Expertise, certified in first aid, CPR, and blood born pathogens.
Apprenticed- under Renee and Tabitha at Immortal Tattoos
Years Piercing- 10
Quote- "Getting pierced is one of the greatest personal accomplishments any human can achieve."